Prelude
Day 20: Nyalam
Our ways are soon to diverge. Every meeting ends in parting, every birth in death, all accumulation in dispersion, and all creation in destruction. Pablo and the Swiss are returning to Khatmandu, I to Lhasa. So we head South on the road heading towards Nepal, crossing the Tsangpo (Brahmaputra) on the outskirts of Saga.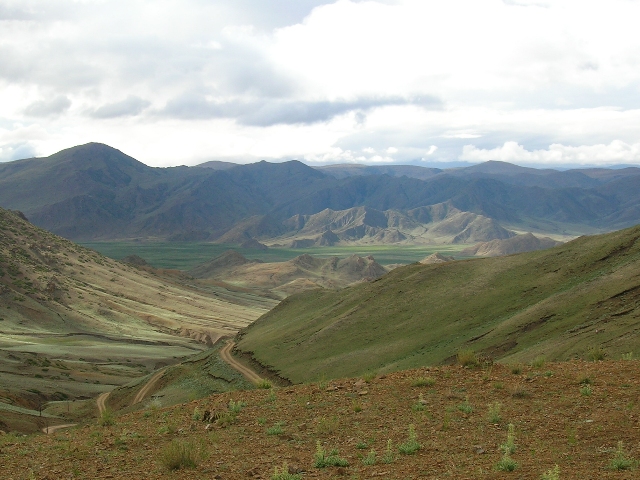 View From the First Pass
As we draw closer to the Himalayas the landscape becomes greener and more mountainous. It is even more beautiful, yet even more desolate, than the familiar and apparently endless Tibetan Plateau.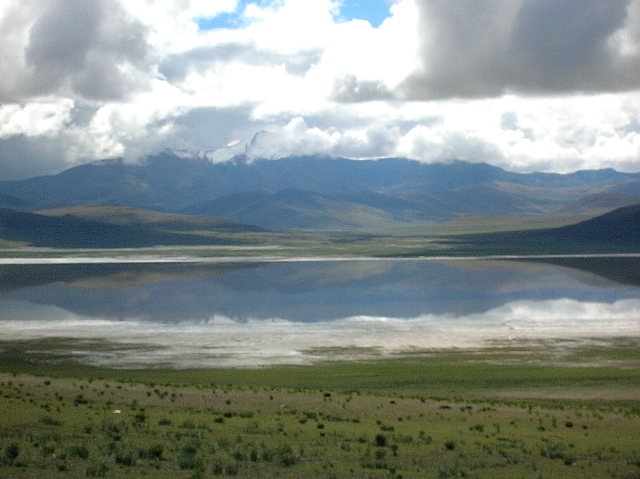 Deserted Lake
We wind our way over high mountain passes, around the shores of vast beautiful lakes that seem completely devoid of human life.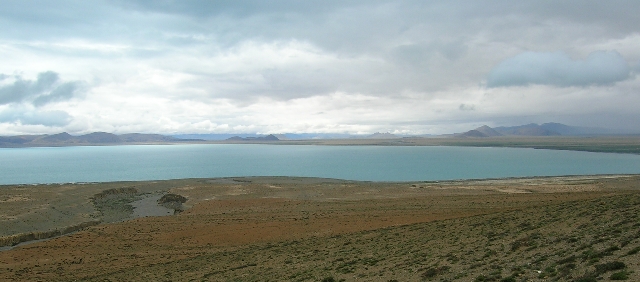 Another, Much Larger, Deserted Lake
Paradoxically, the first sign of life that we do see is in a spot that seems completely unsurvivable: a nomad camp amidst a vast desert of stones, under an unknown mountain that must be one of the highest in the world.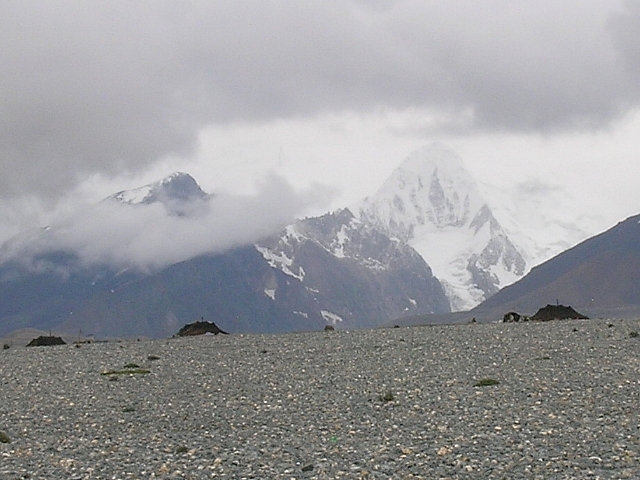 Nomad Camp on Stone Desert Before Mountain
There is no place to get lunch here, obviously. We are all hungry, so we stop to see what we can rustle up. I finally unpack my cooking gear, noodles, and the stove I bought in Lhasa, only to find that the stove doesn't light. I carried this heavy and completely useless gear on my back all the way around Kailas! So we (Westerners and Tibetans together) have a weird potluck of everyone's last reserves of snack food. All the appetizing items have already been eaten, of course, but they say hunger is the best sauce, and the company is good - we are all relieved that we have made it almost to the end of our journey.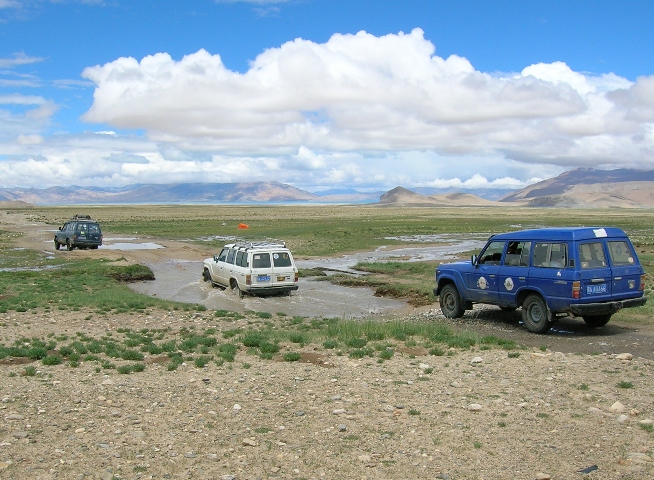 View From our Lunch Spot with Passing Cars
Finally we reach a 17,000 foot pass marked by a steel arch festooned with prayer flags. A Tibetan standing by the arch apparently makes a living out of selling prayer flags there. From this point it is all downhill: we could put the engine into neutral and coast into Nyalam with no problem.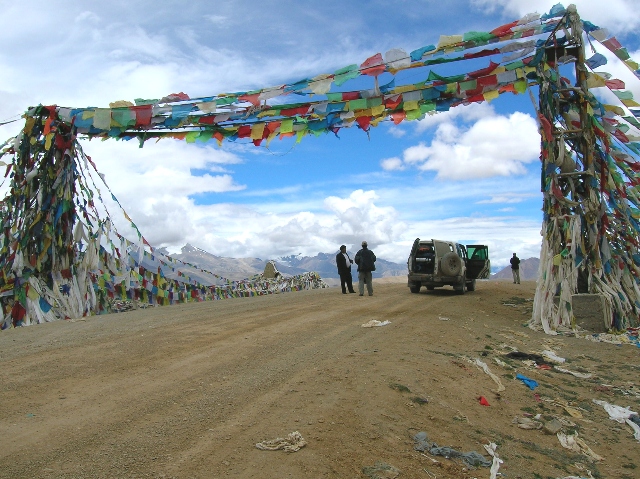 Last Pass Before Nyalam (17,000+ feet)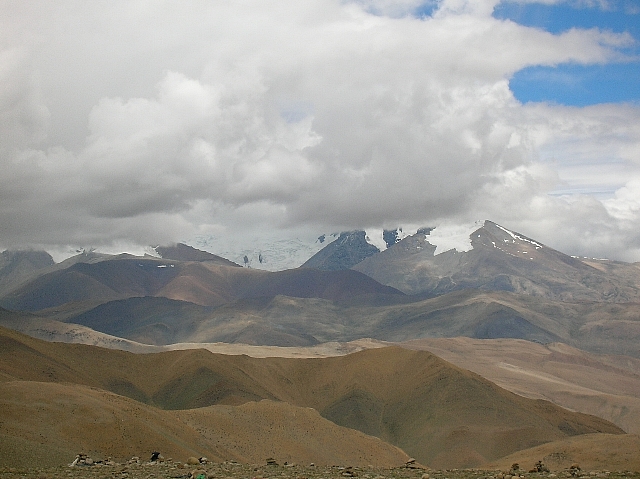 View From the Pass
With every kilometer the valley becomes greener, lusher, and more densely populated. We stop on the outskirts of Nyalam to see a famous meditation cave of Milarepa's. The views of the valley are just what our parched souls have been longing for, but the cave itself is now part of a huge construction site and inaccessible. It looks as if they are building a new temple around the cave. What they are doing reminds me of the Abu Simbel caves in Southern Egypt, where archaeologists moved the walls of the cave to escape the flooding of the Aswan High Dam and then had to build a hollow artificial mountain made of concrete panels and steel girders to embed the cave in.

In Nyalam, after some effort, we find some rooms in the old-fashioned Tibetan balcony-and-courtyard style. Pablo and I check our email for the first time since Lhatse. Though much smaller, the Internet cafe follows the model of the newer ones in China where the whole room is darkened and all the patrons are in a trance playing virtual reality games. I can't even see the keyboard without my headlight. This is what the younger generation do instead of drugs, and if anything is going to slow the Chinese economic revolution down this is it.

We have dinner in a restaurant run by a Nepali that serves a mixture of Nepali, classical Chinese, and 'backpacker' food. It's very good - this is the first meal I have had since Los Angeles that I would not send back if it were served to me in the States. Our relatively low altitude ('only' 12,500 feet) and the fact that our trip is almost over also allow us to indulge in Chinese beer a little more freely than we usually would. Drinking beer at high altitude is generally not a good idea - it depresses the breathing and can exacerbate altitude-related symptoms such as headaches and sleep apnea - and we have mostly been staying off alcohol during our trip.

After a few games of Shithead in the restaurant, where Pablo gets his groove back and everyone finally seems to have mastered the game, we head back to our rooms. Peeking through a window we see a large Mahjjong game in progress that borders on the fanatical. Players are ordering soup from neighboring restaurants that they slurp down while keeping both eyes glued to the tiles and the expressions of the other players.