Prelude
Day 11: Lhatse
The next morning I get up at 7 and walk across to the monastery precincts. There is a lot of excitement about the tanka, and also a lot of street vendors setting up their wares. I and the Swiss couple try and totally fail to get coffee and toast in the hotel restaurant, despite my good Chinese and the six unoccupied waitresses. I am ravenous - haven't eaten in two days - and order a coffee and fried egg from the restaurant outside. My fellow-travelers are so unused to seeing me eat that I practically get a round of applause.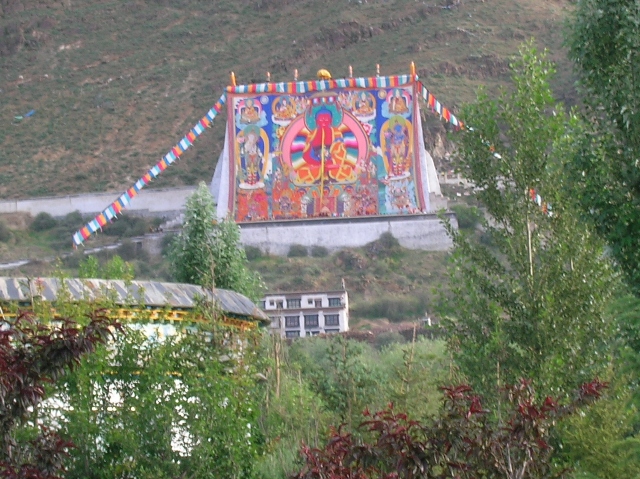 Tanka Shown Once a Year at the Tashilungpo Festival
The crowds here for the festival are so large that it takes us half an hour to drive the half-kilometer out of Shigatse. Most of the day's journey is on dirt roads that seem bad to us, though the next day we realize that they were actually, by local standards, very good. We hang out with some nomads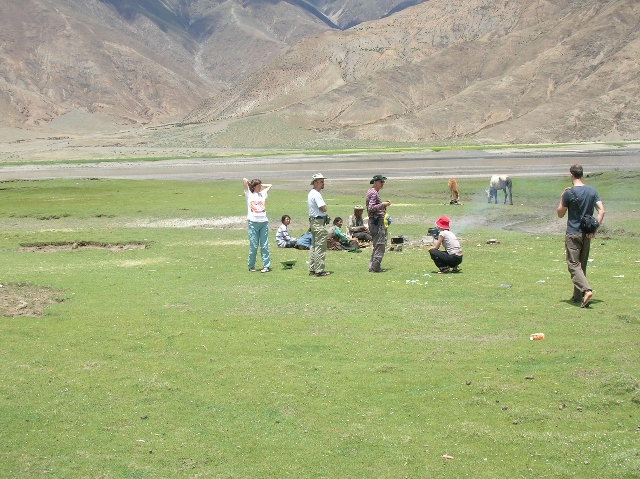 Hanging Out with Nomads
and almost buy lunch at a restaurant associated with a ruined monastery.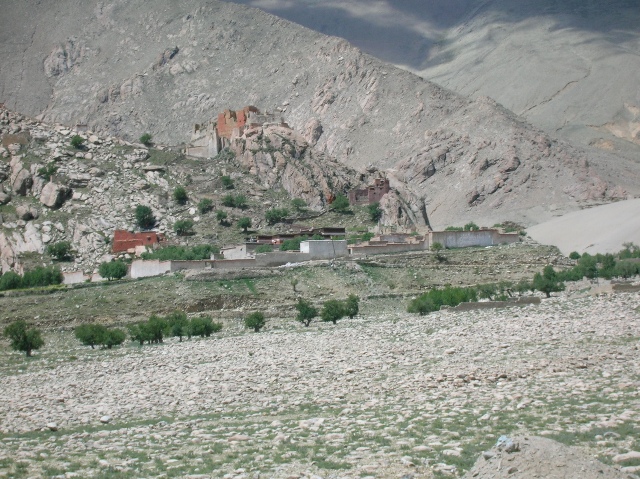 Half-Ruined Monastery in the Middle of Nowhere
However, Dorje tells us that they have no electricity and hence no refrigeration and continue to use their yak meat until even they can no longer stand the smell, so despite our hunger we stick to soft drinks. The photo below shows the Danish couple in the foreground: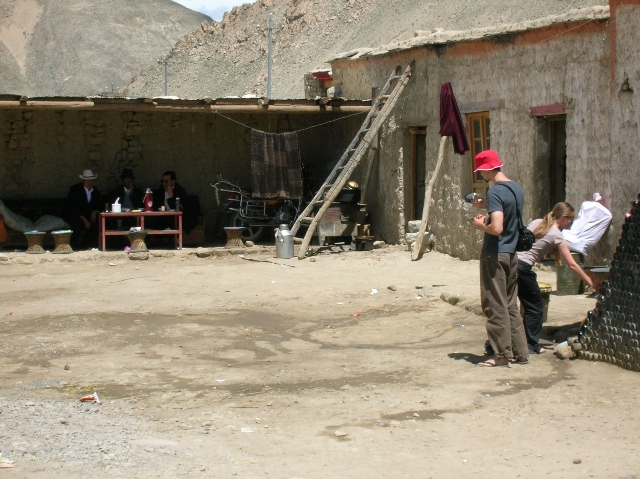 Restaurant, run by Monks, with Several Thousand Empty Beer Bottles
We also take the opportunity to do some vehicle maintenance. Our white Landcruiser looks as if it is about to swallow Dorje: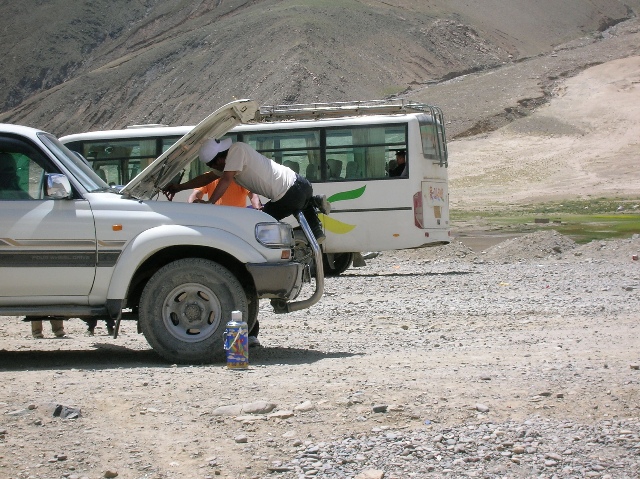 Dorje Doing Auto Repairs
We get into Lhatse around 5 in the afternoon and settle into a charming rustic courtyard guest-house. The only downside is a complete absence of plumbing, so the half of the place nearest the hole-in-the-ground toilet stinks of shit. We will get used to this over the course of our journey: for now the cold beer helps.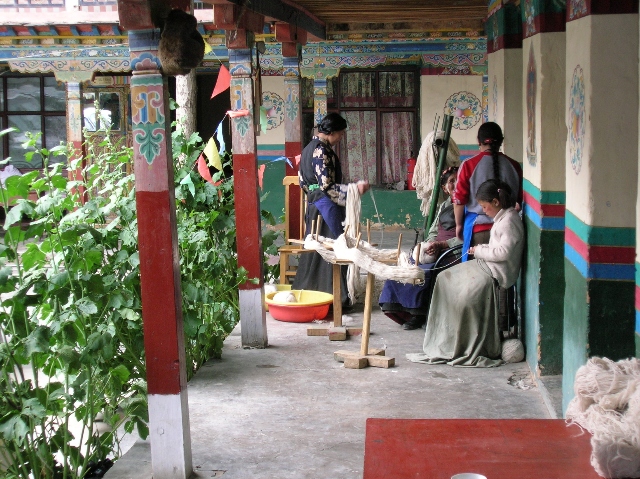 Our Guest-House in Lhatse
We meet up with an American neurologist on vacation and his two teenage sons. Their next stop after this is Khashgar in Central Asia, where they are going to experience the Sunday market - that must really be quite some market. We go out to dinner and my Chinese really gets a workout. The wait staff are great, but of course speak no English, and everybody's order has some little twist to it. For example, Pablo wants his Sweet and Sour Sauce on the side, which I translate as 'Bring the Sweet and Sour Sauce separately': they bring the separate ingredients of the sauce assuming that he want to make his own sauce from scratch. Our Lonely Planet recommends the Chengdu Restaurant and suggests trying the 'Drowned Chicken' (or some such name). However, all the restaurants in town are called the Chengdu Restaurant and every one offers a dish of that name.

This place is a real one-horse town in every respect except that the people love their horses and there are actually quite a lot of them here. Their favorite mode of transportation, however, here and in most towns west of here, is the mini-tractor.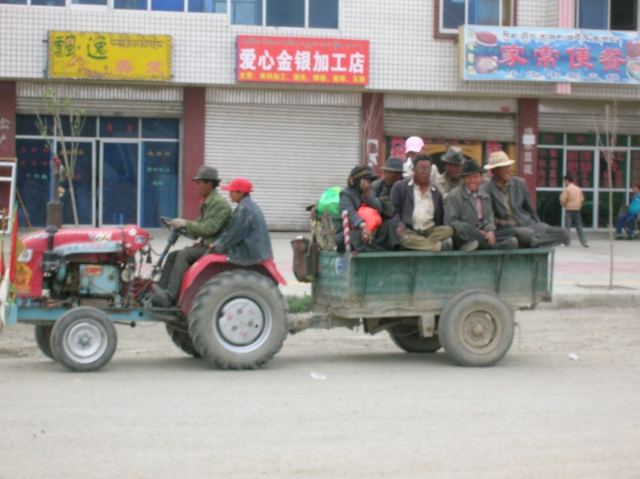 Lhatse Tractor with Passengers
These vehicles are cheap, simple (many have to be hand-cranked), versatile, and reliable, and they come in sizes down to that of a suburban push-mower. Western Tibet is totally dependent on them for roadbuilding, farming, and people-moving.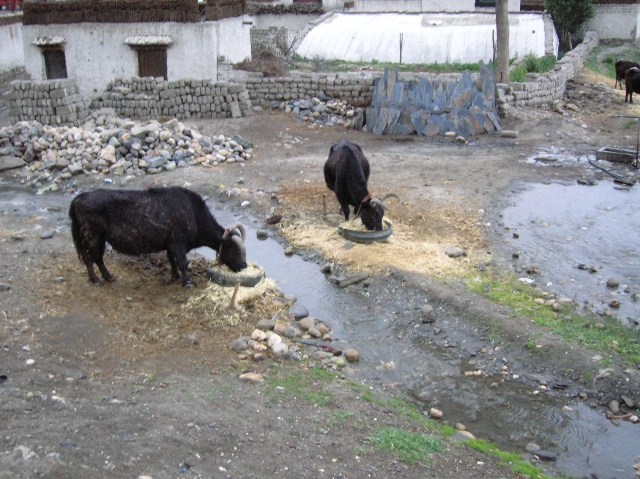 Yaks and Sewage on Outskirts on Lhatse
The streets of Lhatse are ankle-deep in foul-smelling mud, and the water-supply system is also the sewage-disposal system. The restaurant walls are covered in posters depicting delicious foods that are completely unavailable. Despite all this there is something about the place that I like (though my present liking is nothing compared to how glad I will be to see it again on my return.)

Lhatse is there to serve its own people and the people of the surrounding countryside. If you visit it as a tourist you are welcome, but the place doesn't depend on you. It's a lunch-bucket kind of place that doesn't pretend to be anything other than it is.