Prelude
Day 21: Return to Lhatse
We have an early breakfast together (for which the owner of the restaurant where we ate last night has opened his business early), after which the others head down the border in the Landcruiser. Even though it's only 20 miles on a good road, the border formalities are so time-consuming that Dorje tells me it'll be four hours before they're back. It's actually over six.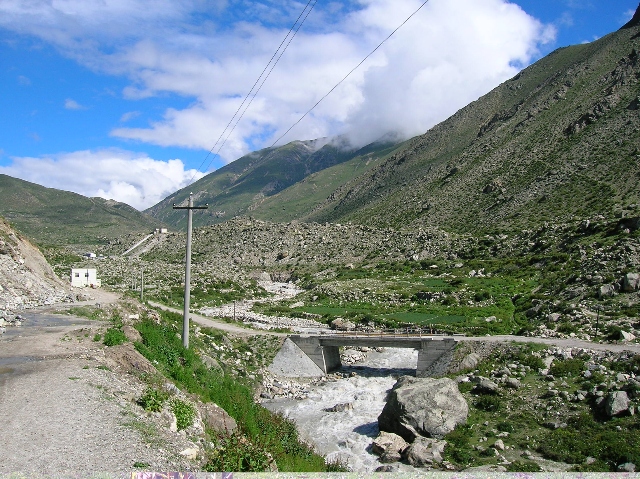 View Up the Valley
While I'm waiting I take a walk up the river valley. Down by the river I see two rail-thin teenage boys breaking up the remains of a washed-out bridge using sledgehammers. The bridge was made of reinforced concrete, which they attack with extraordinary energy and passion. Even breaking up ordinary concrete by hand is a dispiriting task, and how hard the reinforcing bars must make it I can only imagine, but they go at it as if this was a contest on TV with a million dollar prize. I realize that I can't imagine American teenagers being this enthusiastic about any type of work, never mind about work that is as hard as this.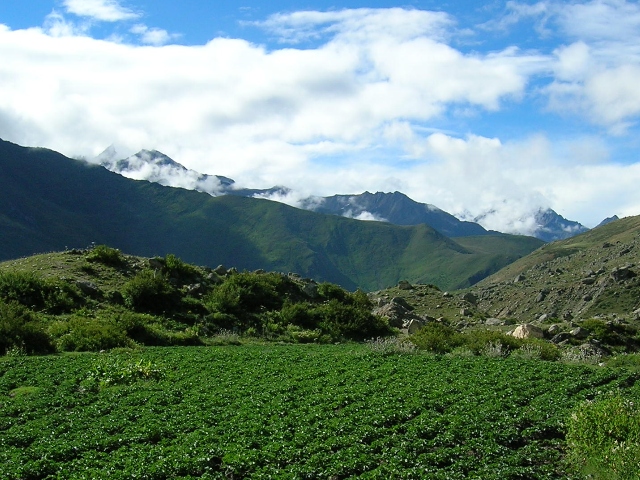 Upland Fields of Potatoes (or Yams?)
The walk up the valley is an enchanting one, through wildflowers and well-tended fields of potatoes or yams. I head back to town to meet the Landcruiser at noon, but it's well after 2 when it finally shows up.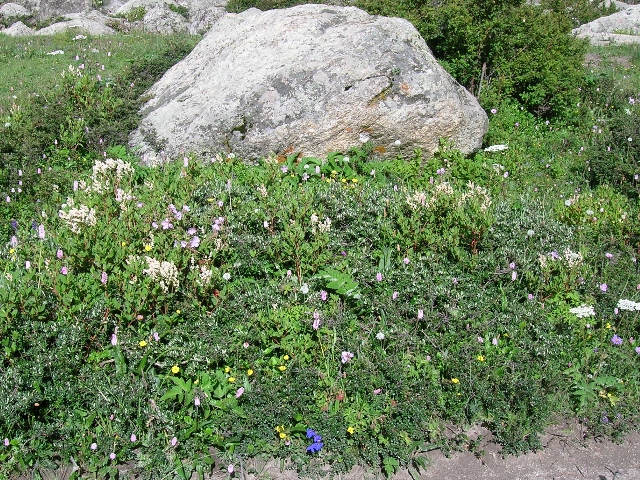 Wildflowers are Abundant in the Valley
The gearbox boils dry yet again, this time on the summit of the 17,000-foot pass with the prayer flags, in a hailstorm. Traffic is thin, and afternoon is yielding to evening: this would not be a good place to spend the night at all. A Chinese SUV stops and the driver talks with Dorje for some time, then drives on. Dorje complains about how they don't want to help us because they're Chinese. I don't think he's being fair - not only did they stop, but unless I'm very much mistaken they also offered us a ride down off the pass, they just didn't want to start messing around with the gearbox.

A group of Tibetans finally does stop, yet more 30-weight is poured into the gearbox, and we are on our way. The gearbox is making grinding sounds that are becoming scarier and scarier. At the bottom of the pass there is a side 'road' with a sign, in English, Chinese, and Tibetan, saying something like 'Beware! Not a road! Danger of death! Do not proceed!' with a very vivid graphic of a car rolling sideways off a mountainside. Of course we take it.

Eventually we arrive in Dingri, the jumping-off point for Everest Base Camp. I believe it was here that Milarepa sang his famous song to his sister Peta describing and rejecting all the worldly paths and temptations - the life of a respected head monk, the adulation of female disciples, wealth, a respected place within the feudal power structure, wife, family, and property - as he headed up to the snows of Everest to meditate.

For the last town on the way to the highest mountain in the world, Dingri is remarkably flat - you could drop a ball anywhere in town and it wouldn't even roll. It hardly lives up to its name, which combines the Tibetan -ri suffix meaning 'mountain peak' with the Chinese word 'Ding' meaning the same thing. The mountains visible in the far distance seem completely insignificant. There is a tiny hole-in-the-wall auto (and bike, motorcycle, tractor, and cart) repair place run by an old Tibetan, who looks at our gearbox, shakes his head, but agrees to drain it, strip it down, do what he can, and refill it with 90 weight. I'm glad he agrees to do it today, since it's already well after 6 in the evening.

I don't have any pictures of Dingri, but here is a link to one:

http://www.pbase.com/dalst/image/67932029

The auto repairs in progress leave us time for a leisurely dinner. I get talking with a very nice Chinese engineer working on the road, and his equally pleasant wife and daughter. They are on assignment here for the summer road building season. The culture is of course somewhat strange to them, but on the whole they appear to be enjoying the adventure.

It turns out that our automobile misadventures have not cost us any time, since the road to Lhatse is closed for repairs during the day and only open for travel after sunset. We set off into the gathering dark, the gearbox grinding if anything worse than ever - some permanent damage has obviously been done. We have a scare when our vehicle's path through the night is suddenly blocked by a boulder field in our headlights, and we realize that not only are we not on a road, but we have not been on one for some time. We manage to turn around, retrace our path along the river valley, pick up the road again, and make it into Lhatse just before midnight. The place we stayed at before is full, but we find another and agree to meet after breakfast at 8.