Prelude
Day 1: Arrival in Lhasa
Like everyone I had many expectations about Tibet, but the one thing I didn't expect was that it would be hot! I flew in from Chengdu in my T-shirt, shorts, and floppy hat, expecting to put on the warmer clothes in my day-pack on arrival, but even in my Chengdu outfit I am being roasted alive. The temperature in Chengdu was in the high nineties and it feels about the same here, but whereas the aggravating factor in Chengdu was 100% humidity, here it's a ferocious sun that feels completely unattenuated by the atmosphere, like a nuclear-powered tanning lamp ten feet over my head.

I get onto the bus to Lhasa, but before it leaves a couple of guys from Shigatse Travel tell me they're here to pick me up, throw a silk scarf around my neck as a greeting, and we're off. We're on a new and excellent road, following the river valley and passing well-tended farms and forestry plantations. After about half an hour one of the Shigatse Travel guys points over my left shoulder and tells me that we have just passed the spot where Atisha, the man who more than any other was responsible for bringing the Buddhist teachings from India to Tibet, passed away a thousand years ago.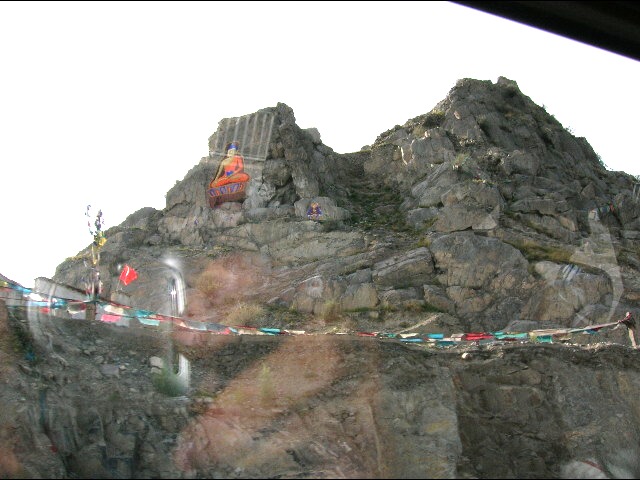 Atisha's Samadhi
Atisha was a scholar, a prince, and a fearless traveler and adventurer. I would have expected him to die in some inaccessible mountain fastness, instead of a little highway pullout halfway between Lhasa and the airport. The joke is that the place actually is inaccessible, only for internal reasons not external ones. Despite my supposedly close personal connection with Atisha, I am to pass this place four times in the course of my stay in Tibet without ever stopping. Each time I am in a hurry, I have something 'important' to do - not pray or meditate, but find a hotel room or a restaurant, get a massage, buy some souvenirs - vital stuff like that! And of course I couldn't slow down my fellow travelers by letting them know about my spiritual interests. So long, Atisha, catch you next time.

To my surprise the farms I pass on the way to Lhasa, which I imagined might at the best grow the odd cabbage or two, produce peaches, watermelons, and even bananas from polythene-sheeting greenhouses- delicious tropical fruit in Tibet at 12,000 feet!

My drivers take me to the Yak Hotel, which is not really my speed. All the staff are dressed in fancy uniforms and the cheapest room is 280 yuan - you can get a room in the U.S. for that. The drivers look at me askance as a cheapskate, but take me over to the Keyri Hotel which is much more down-home. The Tibetan family staff don't speak much English or even all that much Chinese. It's not cheap either at 150 yuan per night - my nice single in the center of Chengdu was only 100.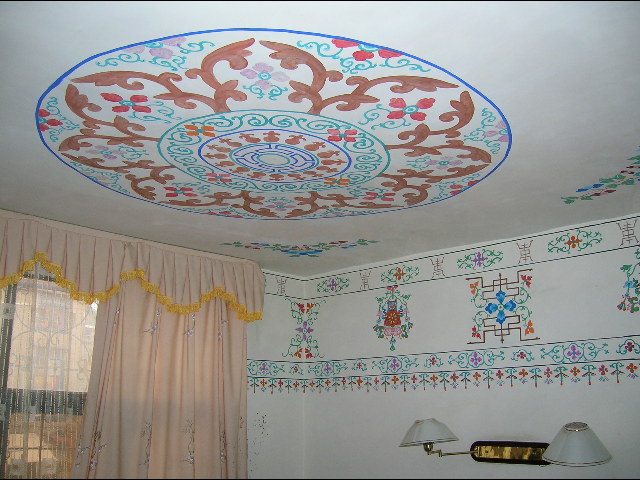 My Hotel Room in Lhasa
Finally I choose it because of the beautiful patterns on the ceiling and the walls - having seen them how could I stay anywhere else? I think I am doing the owners a favor, little realizing that on my return I would have been happy to get my old room back even at double the price.