Prelude
Day 9: On the Road - Gyantse
In the morning I am so weak that I can't even lift either of my two backpacks - not a good sign - and I am drifting in and out of consciousness. Fortunately our party is leaving from just across the courtyard, so I just drag the bags, collapse into the front seat of one of the two Toyota Landcruisers we are taking and drift off to sleep. Our party consists of us six Westerners, two drivers, and a 'guide' Dorje. The term 'guide' doesn't exactly describe what Dorje does, he's more of a fixer. He doesn't seem to know much about the tourist sites at all other than their location, but he does know where to find a cheap restaurant or an auto repair shop, which will often prove more helpful.

The first day's travel takes only three hours or so. Even so, I have to stop several times to use the bathroom (or the great outdoors.) Our driver points at me snoozing with my belly exposed and laughs - I think he sees me like some great beached whale. It's hard to realize that my 6'1" frame and 190-pound weight make me somewhat of a freak here when they are so normal in the States.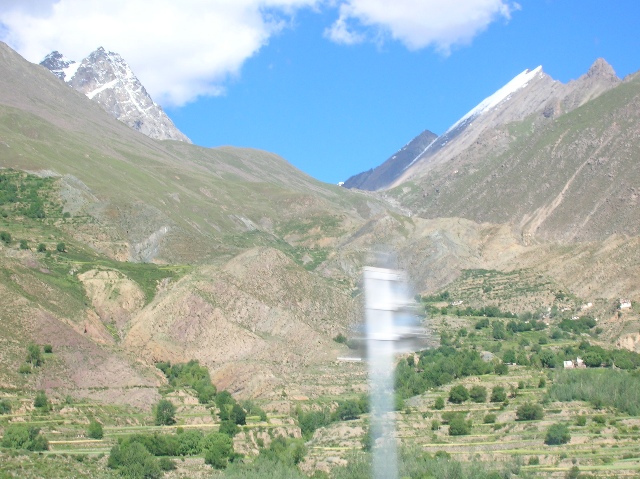 Mountains Seen from the Car on the Way to Gyantse
At our lunch stop, of course, the very idea of solid food revolts me, and it even takes some time to find a brand of Chinese soft drink I might be able to keep down. I do notice that there is an altar with images of the tenth and eleventh Panchen Lamas, to which both the staff and the Tibetan customers pay a good deal of spontaneous reverence. This doesn't fit with the story I learned at the Buddhist center where the Panchen Lama was regarded as a traitor and a Chinese collaborator: the people here and elsewhere on our trip seem to love him. The road is an odd mixture of state-of-the-art and extremely primitive: we do 60 km/hr most of the way except for one short cutoff where we average about 10, have to ford a stream, and see people whose way of life seems almost stone-age. A modern road goes right up to the bank of the river Gyantse is on, but the recently-constructed concrete bridge is already in ruins so we have to take a 5km detour.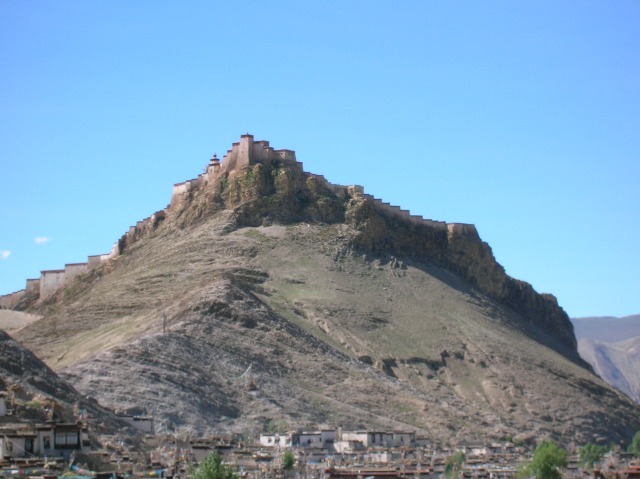 Gyantse Castle
After we arrive and check into a cheap hotel I slide from the car into bed almost without waking up, and the others set out for Gyantse Castle - a spectacular and very un-spiritual relic of the feudal period (which of course ended less than 50 years ago here.)