Biography of Jamgon Kongtrul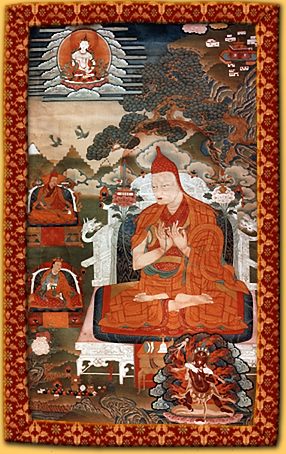 Jamgon Kongtrul was one of the giants of the 19th-century Tibetan Rime (`ree-may`)(non-sectarian) movement. He was born in 1813 and raised as a priest of Tibet`s pre-Buddhist, animistic Bon tradition.

When he was 14, the provincial authorities captured his father and imprisoned him in the provincial capital: Kongtrul moved there to attend to his father`s needs. While he was there, his brilliance attracted the attention of some Nyingma teachers who invited him to join their monastery.

However, he made such an impression that another monastery `requisitioned` him and installed him as the incarnation of one of their teachers for political reasons: Kongtrul is the name of that incarnation. Since his interest was in practice rather than politics, he left the main monastery in 1842 to live in an old, abandoned retreat center which he refurbished and used to teach three-year retreats. His curriculum for these retreats is still in use today.

He regretted the breaking of his connection with his former Nyingma teachers, and attributed this as the cause for later ill health and mental and karmic obstacles. Gradually he worked through these problems with the help of the great Jamyang Khyentse Wangpo (who became a close collaborator in the Rime movement) and of Chokling Rinpoche.

Kongtrul developed a profound faith in all aspects of the Buddha`s lineage and teaching, and saw rejecting or ignoring any of them as rejecting the Buddha himself. He used practices from many different schools in his retreats and preserved them in his writings. He was particularly concerned to preserve and teach practices directly applicable to ordinary life, such as Mind Training (tonglen and lojong).

This brief biography is based on material in the introduction to Sarah Harding`s translation of Kongtrul`s explanation of the motivation for visualization and deity practice, entitled `Creation and Completion : External Points of Tantric Meditation`. This is an indispensable text for any Westerner doing such a practice.

Website design in ASP.NET (VB), Javascript, and SQL Server. Copyright

Martin Mellish

, 2003

Page View: 3,339,963
Source of the biography of Jamgon Kongtrul given in the text. A delightful introduction to the deepest understanding of visualization, a particular way of cultivating religious imagination and full-bodied practice. Jamgon Kongtrul, a master practitioner and one of Tibet's most prolific writers, composed this text as a guide to the effective practice of tantric Buddhist meditation. Written in the style of the Tibetan songs of realization, the text leads a way along a clear path of meditative self-transformation; this revised and updated edition includes a commentary by Khenchen Thrangu Rinpoche
The first modern (19th century) commentary on the root text, and the primary source for all subsequent commentaries. Timeless, honest, straightforward and always insightful about our human nature. A must-have for any Mind Training practitioner.