Biography of Pema Chodron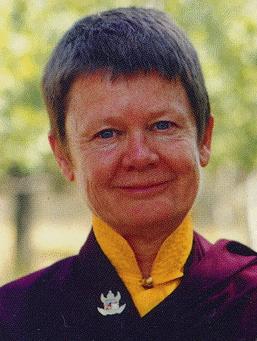 Pema Chodron is a Western Buddhist nun and one of the most respected and loved teachers of Buddhism in the West today. She was one of Chogyam Trungpa`s foremost students and is now director of Gampo Abbey in Nova Scotia. Her programs at the Abbey are booked up as much as a year in advance. Information about her programs there and elsewhere can be obtained by sending e-mail to the abbey at gampo@shambhala.org, or from her website, http://pemachodrontapes.org.

The mother of two children and a former teacher, her desire to become a nun was so great that she traveled to South-east Asia to research the Buddhist ordination line for women, which was totally unknown in the West at that time. She was ordained in Taiwan. Like Atisha, she is known for her scrupulous observance of the vinaya (Buddhist moral code), which she sees not as a restriction but as a path to freedom. Her personal impeccability lends weight to her defense of other Buddhist teachers accused of improprieties.

The commentaries in this database are taken from "Start Where You Are" (Shambhala Publications.) She is the author of two other books and many audiotapes, listed below. The royalties from these all go to support Gampo Abbey, whose facilities urgently need to be expanded to meet the demand.
The Wisdom of No Escape. Principally on the Shamatha meditation practice, with some discussion of Mind Training (tonglen). Also available in an abridged small-format edition as `Awakening Loving-Kindness`.
When Things Fall Apart. Mainly on the tonglen practice and the third point of Mind Training (using adversity to wake up.) This book is so useful and accessible that probably most of the people who own and love it are not Buddhist practitioners as such. A great gift for friends in crisis, or for yourself.
A series of six audiotapes on this practice, entitled Awakening Compassion and available from Sounds True recordings (1-800-333-9185.) I also have a friend who bought this tape set in Costco!
Many of Pema`s other talks are also available on audiotape. For a list, send a stamped, self-addressed envelope to Lynn Vande Bunte, 4035 South Rose #301, Kalamazoo, MI 49001.

Website design in ASP.NET (VB), Javascript, and SQL Server. Copyright

Martin Mellish

, 2003

Page View: 4,406,804
Probably the most accessible introduction to the Mind Training practice. Pema combines a deep understanding of the Western Mind, deep immersion in the Tibetan tradition, and a wonderful sense of humor about human nature. This book is unique in that Pema shares with us her own struggles and failures, and shows, using examples that we Westerners can relate to, how the proverbs can gently bring us back to the path. Her humor, understanding, and love shine through this book
A wonderful set of tapes, every one of which I have played many times. 'Pema shows you how to use your own painful emotions as stepping stones to wisdom, compassion and fearlessness. You will learn how to make friends with the most painful parts of your life experience, and how to use your natural courage and honesty to transform even the most painful situations.'
This commentary on "Using adverse conditions as the path to awakening" is the ideal book for someone in crisis. Its aim is not to survive the crisis, but to use it as a unique opportunity to let go and open up. I'm sure you know someone in crisis right now, and this is the perfect gift for them (or for yourself).
Set of 6 audiocassettes on Mind Training, the Four Immeasurables, and other subjects.
This is an abridged pocket edition of Pema's first book, "The Wisdom of No Escape". Carry it everywhere you go, open it at random to any piece of her humorous and compassionate wisdom. Or just look into her eyes on the cover photo! A bargain.
Instruction on Shamatha-Vipashyana (calm abiding and insight) meditation with all of Pema's characteristic touch and humanity.