Biography of Chogyam Trungpa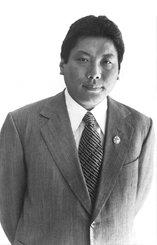 Official Chogyam Trungpa Website

Trungpa was born in Eastern Tibet and recognized as an incarnation of the Trungpa line at an early date. He studied with, among others, one of the reincarnations of the Jamgyon Kongtrul who wrote the most famous commentary on the Seven Points. In 1959 he fled to India in the wake of the Communist takeover in Tibet, courageously leading many of his people to safety (this period is described in his book Born in Tibet.)

He came to England in the mid-sixties to study at Oxford, learned English, started to teach, and started one of the first Tibetan Buddhist centers in the West. He later dropped his monastic vows, married, and moved to America where he continued his teaching. He founded the Naropa Institute in Boulder, Colorado, a large and highly respected Buddhist university, as well as the Shambhala organization. The influence of both his teaching and his books on American Buddhism was and still is enormous.

In his later years controversy surrounded his open and active sex life with his students and his heavy drinking. He died at the age of forty-seven; damage to his health from excessive alcohol consumption was a major contributing factor in his death.

Website design in ASP.NET (VB), Javascript, and SQL Server. Copyright

Martin Mellish

, 2003

Page View: 4,401,969
A contemporary reinterpretation of the proverbs, building on Jamgon Kongtrul's 19th century commentary, by the first man to teach Mind Training extensively in the West.
Fascinating autobiographical account of Trungpa's early life and training in Tibet, his daring escape to India, and his teaching in the West.
'The problem is that the ego can convert anything to its own use, even spirituality'. His incisive, compassionate teachings serve to wake us up from this trick that we all play on ourselves, and to offer us a far brighter reality: the true and joyous liberation that inevitably involves letting go of the self rather than working to improve it.
Incisive teachings by one of the most influential Tibetan Buddhist teachers in the West. A central theme: giving up our hopes that meditation will bring us bliss or tranquility or make us better or wiser people or otherwise serve our ego's purposes, and realizing the liberation that is right here within our pain and confusion and neurosis.